OnePlus 6 and the Bullets Wireless: Can they provide all the speed you need?
Yes, it's an example of the figure of speech, climax. But here, it also signifies the actions of Carl Pei, CEO, and Co-Founder- OnePlus. Having worked with Oppo for a long time, Carl Pei had understood what it means to be a smartphone brand in today's world.
He came, he saw, he captured
He understood that along with making a good final product, you need to also be able to push it out in the market in a way that people remember. And OnePlus has always been doing that. They were the first company to do an all-VR launch. The build-up to this year's launch event needs no justification. Along with the events, the pop-ups provided the mass with an opportunity to buy the smartphone before anyone else and also getting their hands on it.
2017 had been a significant year for the company. Earlier in the year, they launched the  OnePlus 5 which became the bestselling smartphone on Amazon, selling more than 7000 units per minute. And then, just a couple of months before their 4th anniversary, they launched the OnePlus 5T which also got a huge response. They went back to the old ways, meeting with their fans and users and creating together. OnePlus also became the most recommended brand in 2017.
OnePlus launched the much anticipated OnePlus 6 and also the Bullets Wireless, of which the rumors had been doing rounds for more than 2 years now. Justifying the time OnePlus took to join the wireless headphones race Carl Pei said, "We don't launch a product that's already in trend until we think that it's better than our competitor's product out there in the market."
Let's talk about the Bullets Wireless.
We did a post on how the wireless earphones could be like, a month back, and believe me it's nothing like we all anticipated. It's a lot better.
The Highlights,
9.2mm drivers
Sweat and Rain Resistant
Magnetic Control
Enabled with Google Assistant
Dash Charge
Yes, they support USB-C fast charging(you can use any USB type-C cable), are Google Assistant-integrated, weather-resistant, and use the AptX codec for better Bluetooth audio quality, but they're not the "truly wireless" in-ear wireless buds you might've been expecting.
Regardless, they have specs that might make them great wireless headphones. On paper, OnePlus claims you can get five hours of usage from ten minutes of charging or top it off for five hours of battery.
The buds themselves are milled from aluminum, but more importantly, OnePlus ensured you can magnetically snap them to each other to avoid tangles. Also to add to the overall 2018 look 😉
 Also, if you have a OnePlus 5 / 5T or 6, clipping the Bullets Wireless together will pause music, while unclipping will resume; an update is in the works to add phone call support. That, in the end, will prolong the battery life and make your bullets last longer.
OnePlus' marketing jargon for Bullets Wireless includes the term "energy tubes". Essentially, they reduce reverberations within the wires, better isolating and stabilizing sounds. Their intended outcome is to produce clearer, richer audio. They even did a blind test with musicians like Ryan Pollie. "It doesn't feel like an earphone. It completely occupies the space inside the ear. And the sound quality is just yum! I can feel the lows, the mids, and the highs. the bass and treble are very warm".
They are available at a price of 69 £, 69 €, and also 69 $ and will be in the market from June 5!
"OK Google, get me a pair of these"
Now let's jump into the main attraction, the OnePlus 6! OnePlus sure did it's research before launching this phone. It ticks all the checkboxes.
Simplicity, Comfort, Quality
First, the highlights.
Clean and Cluttered design
Smoothly Rounded edges for a better grip
 Camera perfectly centered for perfect symmetry
The headphone jack still exists!
Snapdragon 845 to power the horses
The most controversial aspect of the new design, the notch at the top of the 6.3-inch 19:9 OLED display, has already been the subject of a preemptive realization from the company, and fan demands have been answered with the added option to conceal the notch by putting a black bar on the screen around it.
Though beloved by few, the notched design does have a significant upside in helping OnePlus fit a lot more screen into basically the same dimensions as its previous OnePlus 5T and 5 models. The OnePlus 6 is a little smaller than the 6-inch Google Pixel 2 XL, but it offers more vertical screen space and makes the Pixel's bezels feel crude and chunky by comparison.
It's not that the 6 lacks bezels; they just happen to be minimal and nicely designed. the 81% screen to body ratio is just, sweet. OnePlus' interface is well-tailored to the notch, and the company has tested the top 1,000 Play Store apps to ensure they play nicely with it. Whether or not the notch is to your liking, you can't accuse OnePlus of moving to it without sufficient forethought.
The other big change with the OnePlus 6 is the introduction of a new glass back, replacing the unibody aluminum case that's been the norm for OnePlus for a number of years. The company's press release says that this is "the first in OnePlus' line of flagships to feature an all-glass design," suggesting that the metal backs of the past are going to stay in the past. With this alteration, OnePlus joins the vast majority of smartphone manufacturers — companies like Apple, Samsung, Sony, Nokia, LG, and Huawei — in having glass on both the front and the back of its flagship device. the media has been told by a number of these companies that the general trend has been driven by the requirements of faster and more advanced LTE, making it increasingly difficult to produce a phone with a metal back.
Although the OnePlus 6, replete with a notch and a glass back, now blends into the mass of Android phones out there, it does stand out with a number of its own unique strengths. The matte Midnight Black version is actually quite interesting. It's also made out of glass, the Corning Gorilla Glass 5, which is corroded to give a matte finish. The limited edition Silk White has edges of Rose Gold and one of its ingredients is the crushed pearl. They avoided ceramic because it was heavy and fragile.
Firstly, the software is clean, thoughtfully designed, and unfailingly fast. The OnePlus 6 was among the first Android phones to support the Android P beta, even before it was officially announced. OnePlus says that it's committed to heeding and responding to its fans' wishes, and its eagerness to deliver updates as soon as possible is a testament to that.
The other thing, the one that matters a great deal more than it's discussed on pages like these, is the price. Starting at $529 with 6GB of RAM and 64GB of storage, the OnePlus 6 is once again a little more expensive than its predecessor, but also a lot less pricey than the typical Android flagship. It'll be compared to phones like the Galaxy S9 and Huawei P20 Pro, both of which cost hundreds of dollars more, but it's priced right in line with the Honor 10. I think the OnePlus 6 has the quality of design, materials, and display to be held right up alongside the best Android phones on the market.
Where I remain dubious with OnePlus is on the camera front, though the company's made positive strides by increasing the main sensor size of its dual-camera system by 19 percent (for a pixel size of 1.22μm). Optical image stabilization has been added to both rear cameras, and you can now shoot faux-bokeh portrait mode pictures with the front as well as the rear cameras. OnePlus is getting into the algorithmically reprocessed photo game by offering the option to turn the bokeh in a photo into various shapes like hearts and stars. I've seen some sample images on it's Instagram account, and it seems good so far!
Another one of the new updated features is the all new Gaming Mode. Unlike in other phones, the gaming mode in OnePlus 6 minimizes the background usage of the phone like reducing the internet usage by other apps to make graphics-rich games like PUBG more fluent. Games will launch faster because of the overdraw reduction.
Winner winner Chicken Dinner
Not many other things are different about the OnePlus 6. The signature OnePlus alert slider moves from one side of the phone to the other, which the company tells me was a simple matter of space considerations with the new phone's layout. The headphone jack remains in place, though, and OnePlus says it has no plans to remove it anytime soon. I would have liked to see OnePlus add wireless charging with its shift to a glass back, but that hasn't happened, and neither has the addition of waterproof certification. OnePlus argues that the 6 has comparable water resistance to most modern flagships, and it was tested extensively for that, but I'd still feel more reassured by having it adhere to the same universal standard as everyone else.
Marketed under the slogan of "the speed you need," the OnePlus 6 comes with a Snapdragon 845 processor, Adreno 630 graphics, and up to 8GB of RAM and a maximum of 256GB of UFS 2.1 storage. On one hand, it's great that OnePlus can cram the latest and best specs inside a phone that retains a distinct midrange price (by 2018 standards). On the other hand, I'm not convinced that OnePlus can actually use that fact to make its device stand out. The comparably priced Honor 10 also has a flagship processor inside, Huawei's Kirin 970, and it also offers a smooth and responsive experience. The rest of the OnePlus 6 specs are fairly predictable: 2280 x 1080 resolution, Corning Gorilla Glass 5 up front, 3,300mAh battery, Bluetooth 5, support for two nano-SIM cards, and Dash Charge fast charging.
The one trend that OnePlus isn't entertaining with its new flagship (at least not yet) is offering a diversity of color options. You'll be able to buy the OnePlus 6 in either a glossy or matte black or a shimmery white variant. These colors correspond to particular specs: the mirror (i.e., glossy) black covers the $529 6GB / 64GB and $579 8GB / 128GB OnePlus 6, the silk white and the so-called midnight black will be at the $579 price point and spec, and there'll be a $629 8GB / 256GB midnight black model as well.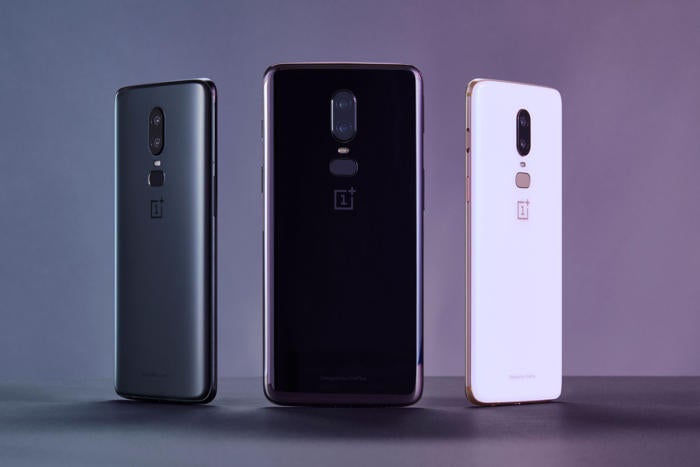 All variants of the OnePlus 6 go on sale May 22nd directly from OnePlus' online store in North America, India, and across Europe. The European and UK pricing is less attractive than the US's, with prices starting at €519 / £469 for 64GB of storage, going through €569 / £519 for 128GB, and maxing out at €619 / £569 for 256GB.
If you buy the OnePlus 6 from oneplus.com, you will get a free pair of Bullets Wireless.
The India Launch of the OnePlus 6 is scheduled at 3 PM IST.
This new camera app by Moment will blow your mind!
Since the past few years, a debate has popped up in the photography community.
Can smartphones revolutionize classic photography?
"Photography has always depended on technology, and every change in technology has affected the history of photography, but the smartphone, in its nature, is a device that is not for photography. It's a device that is for communication," says photographer and filmmaker Henry Jacobson.
But then, the iPhone was launched in 2007. And it hit back to all the naysayers.
The iPhone was a "revolutionary mobile phone" and a "breakthrough internet communications device" — with a camera. It was certainly not the first phone to have a camera — and it probably wasn't even the best camera available in a phone at the time — but it certainly was the best camera in your phone. As soon as you used it, you felt a genuine, relaxed enthusiasm for taking pictures that you, as a daily user, hadn't felt for years.
Over the period of time, cameras in smartphones have improved to a great extent. Some have gotten so far with their hardware, that they're making photographers drop DSLRs and instead stroll around with a 500 gm smartphone.
Then, a couple of years back, Moment launched extensive camera lenses and cases for smartphones. Which in addition to an already improvised sensor, took smartphone photography to a whole new level.  It mainly focuses on cases for the Pixel 2, Galaxy S9, and Apple's iPhones. The wide angle and telephoto lenses have rocked the market so far.
But now, Moment is stepping away from the hardware and released a new app for both Android and iOS.
It's called as Moment- Pro Camera. 
Just like any other third party camera apps, it's designed to replace your default camera app while giving you access to all of the pro controls you could ask for. You can shoot in RAW, control exposure/ISO/shutter speed/focus/white balance, analyze all of your photo metadata in a DSLR-like format, and see a real-time histogram to know exactly what your exposure is like.
Despite all of these controls, Moment's kept the UI for its app very clean and simplistic so that it's not too overwhelming for people looking to gradually up their photo game. There's also a section in the app where you can let it know you're using a Moment lens if you have one, and according to Moment, it's working on adding support for the Pixel 2's Pixel Visual Core, the technology that has blown everyone's minds with it's ability, at some point down the road.
While all of that sounds great, Moment's Android app is lagging a bit behind. When I was watching videos about the app, the Android version didn't support video recording or the ability to switch between sensors if you've got a phone with dual rear cameras.
Speaking of the Android app, it'll set you back $1.99 on the Play Store. For our iPhone friends, the iOS app can be downloaded for free but requires a one-time $2.99 payment to access all of the pro controls.
Are smartphones better than DSLRs? Stay tuned to know more.
The Peaks and Valleys of WWDC 2018
Today Apple held WWDC 2018 to announce their much anticipated software updates. iOS, macOS, watchOS, and tvOS all got new features, and despite being smaller in features there's still much to talk about.
Apple from the very beginning setting the stage with iOS claiming that the focus was performance and stability improvements. So, although there might not be as many user features as prior updates, the new features here are meaningful. However, some don't quite meet that standard.
In my opinion, here the peaks and valleys of WWDC. First the positives…
Peaks
1. Porting iOS Apps to Mac
Looking back, we might see this as the most important feature announced today. At the tail-end of the macOS announcements, Craig Federighi gave us a sneak peak of Universal Apps now incorporating iPhone, iPad, and for the first time Mac.
The Mac App Store has had issues with Mac developer retention for some time now. Getting iOS developers to come over has been a whole other issue. iPad apps were quickly adopted by developers because it shared so much in common with iPhone development. All that a developer really had to do was update the UI. Mac, on the other hand, currently requires a whole new app be written.
This transition to Universal Apps across OSes comes in two phases. Phase 1 we saw today. It starts with Apple porting some of their own apps to Mac, which include: News, Stocks, Home, and Voice Memos. Phase 2 comes next year and will open up tools to developers allowing them to port their own iOS apps.
Hopefully these new additions, plus the new Mac App Store design, create greater incentive for developers to bring their apps to Mac. From where I'm standing, these tools could make a big difference.
2. Screen Time and Digital Health Features
Last month Google showed off their bevy of "Digital Wellness" features, and while they might have gone farther, it's great seeing Apple take steps to make your time spent with your phone healthier.
All these Digital Health features show up in a few different ways. First were some additions to Do Not Disturb. Now in Control Center you're able to associate Do Not Disturb functionality with a particular location (where you work) or a calendar event (a specific meeting at work). Even when using the Bed Time function added last year, Do Not Disturb will automatically turn on.
Screen Time is the biggest Digital Health feature added. In settings right under Do Not Disturb a new tab dubbed Screen Time will show you how long you used your phone, how many notifications you received, how many times you picked up your phone, and your most used apps. From here that data can be broken down by current day or week. There are also options to set timers per application or type of app determined by its category in the App Store.
3. macOS Dark Mode
The most immediately apparent update to macOS Mojave is the new Dark Mode. First off, it's gorgeous. Holding back from using the developer beta of Mojave just for Dark Mode has been a trying effort. I'll manage, somehow. There's not much to say other than to look at these beautiful stills.
4. Siri Notification Suggestions
We'll talk about some of the other Siri features later, but a smaller addition comes in form of task suggestions seen in Notification Center. Let say that you missed a call from someone and you haven't called them back yet, Siri will add a notification suggesting you call that person.
I've already had experience with this on my phone can already see it has a useful tool to remind me of smaller important items I might have forgotten otherwise. These suggestions also show up in the Search Field. The idea is that after Siri has learned some of your routines she'll send you handy tidbits when you need them most.
5. Third Party Support For Siri Watch Face
Another small, but potentially big feature here. Last year watchOS 4 introduced the Siri Watch Face with contextually relevant cards in place of the standard complications. This year the watch face gains support for third party apps via the new Siri Shortcut API. Third party integration makes this watch face infinitely more practical with the potential of seeing transportation times, news updates, and whatever else third party developers cook up.
Valleys
1. Increased Animoji Support
Flag this one as highly subjective and very much my own opinion. Many people are going to love these new Animoji and they'll love FaceTiming their friends as their very own Memoji. Not me. Animoji has always hit a sour note for me and with iOS 12 I'm finding their inclusion that much more frustrating. Beyond FaceTime invites in Messages, Animoji was the only new addition to Messages.
It's not the inclusion of new Animoji that upsets me, if there were other features to discuss among Animoji I'd have no problem. But it was the only update, and Apple spent a lot of time on it. Which leads me to…
2. No RCS
RCS is the spiritual successor to SMS and includes many practical additions such as read receipts, typing indicators, and rich links. It has been adopted by all the major carriers, and would make texting someone on Android (aka a non-iPhone user) a far more pleasant experience. It's also far more practical and necessary of an update than additional Animoji.
To me, not including RCS would be like not including Bluetooth 5.0 or a new WiFi standard. Why exactly wasn't this included? I'm very curious. It can't be because of security, because SMS already lacks end to end encryption.
3. No iOS Dark Mode
When video leaked of macOS and the included Dark Mode a few days ago, I became hopeful we'd see the feature come to iOS as well. Alas, I was wrong. Maybe there are challenges bringing Dark Mode to iOS and that don't exist for Mac. iPhone X and future OLED devices would benefit greatly from a Dark Mode. OLED screens don't have to power black pixels, which could have resulted in a lot of power saving goodness if there were an iOS Dark Mode. I'm sure it'll come eventually, just would've been nice to have seen it released in parity with macOS.
4. tvOS
What is there to talk about, really? Dolby Atmos support. A single new screen saver. And an admittedly cool Zero Sign-In feature for TV passwords let down by support from only one provider. None of this warranted being featured in a keynote that already ran too long, Apple shouldn't have dedicated time to tvOS on stage. They could've left it out.
5. Siri Shortcuts Aren't Enough
For me this is one of the biggest letdowns of WWDC. Siri has fallen behind competition with Google Assistant, Alexa, and Cortana; and she really needed this year to catch up. Siri Shortcuts seems to be trying to catch up on third party app support seen on other assistants. At a quick glance it would appear Apple has done so, but a second thought changes that outlook.
Essentially the feature takes advantage of available deep links into apps allowing you to go somewhere specific in an app. By going to a deep linked area of an app you'll be able to tell Siri you want to create a command for that specific information you're seeing in the app and create your own command to reach it.
Here lies the problem. For starters Google Assistant already has similar functionality, the difference being that the user doesn't have to point Google Assistant where to go, it just know to go. Siri has to be trained per function, per app. A lot of voice activated requests are thought of on a whim and aren't initiated preemptively. Who thinks they'll have a question in a few hours and sets it up ahead of time? Seems like the user is doing work that Siri should be doing instead.
Even though requests can accomplish more complex tasks thanks to the integrated Shortcuts app, they all still require the user come up with a command and consistently use that command verbatim. Stray from the command and you'll get a different result. Notably Siri falls behind competition on voice recognition as well, and there was no word about and update there.
It's not a terrible feature, but it certainly doesn't help Siri catch up to competition.
More to Come
iOS 12, macOS Mojave, watchOS 5, and tvOS had many other features that couldn't all be talked about here. Increased privacy while browsing, Group FaceTime, grouped notifications in iOS, Camera Continuity, among others were also highlighted during Apple's event. Stay tuned for more updates and a look at unannounced iOS 12 beta features and overall impressions in the coming days while we get our hands on the software.
WWDC 2018 Liveblog: Get on the Hype train!
WWDC 2018 is in a few hours and we're here committed, more like excited to share live updates with you. There's a lot to take home today, with iOS 12 up to the brink, launching with a lot of purported features; macOS– with a dark mode, a news app, and a revamped macOS store, and some basic upgrades to watchOS and tvOS.
Unfortunately, we wouldn't expect hardware announcements, owing to previous reports but isn't WWDC a warehouse of software goodies more than hardware ones? Tune in, for a ride in the hype train!